After struggling with finding the best non-stick cookware set with an option to save extra space, we found out that this Calphalon Premier Space Saving Nonstick 15 Piece Cookware Set is quite breath-taking and offers a lot of good features.
Whether you're just setting up a new kitchen or need to re-equip the old one, getting the best cookware set is the most affordable way to go.
In this review of  Premier Space Saving Nonstick 15 Piece Cookware Set we will critically analyze all the pros and cons of the product to help you determine whether it's worth the investment for you or not.
Enjoy your reading as you are about to find out our take on it!
Product Description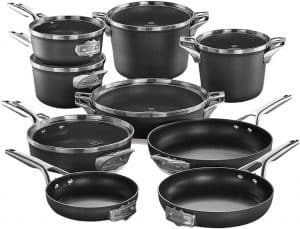 Image source: Amazon.com
The Premier Space Saving Nonstick 15 Piece Cookware Set contains all the cooking kits you'll ever require to start your kitchen. The hard anodized nonstick cookware has an elegant design and flat glass covers that stacks and fits in well in any order. While the cookware set is durable and securely stacks to save 30% more space, the hard-anodized construction offers uniform heating without leaving any hot spot. Visually, the cookware set is made of 3-layer non-stick interior which is solid enough to withstand metal spatulas, whisks, and spoons. And, the fact that it's a dishwasher safe makes it extremely easy to clean after use.
What Is Included In The Set
This set includes the following:
8″ fry pan
10″ fry pan
12″ fry pan
2.5 qt saucepan with lid
3.5 qt saucepan with lid
4.5 qt soup pan with lid
3 qt saute pan with lid
5 qt sauteuse with lid
8 qt stockpot with lid
What We Like About The Cookware Set
Versatility
This feature is definitely a WOW factor; considering the versatile use of the cookware which makes it safe for use on a wide range of cooktops such as gas, electric, electric coil, halogen, and glass. In short, it's compatible with many types of range ovens.
Stacks and Nests
Having your kitchen cluttered up with a cookware set is something you most certainly wouldn't like. The Calphalon cookware set is perfectly designed in a unique way that saves 30% more space. This means stacking and nesting pots and pans (in no specific order) with other premier cookware of similar diameter is extremely easy.  Again, this means, you wouldn't have to get your kitchen littered up by a cluttered cookware set.
Hard Anodized Aluminum
The cookware is made from hard-anodized aluminum and it's durable, long-lasting, and excellent for heat conduction. Plus, the uniform heating across the cookware makes your cooking more delicious, well-cooked with highly predictable temperatures. I can't imagine how horrible it can be having anything different from this – having a cooking result where the side of the food is cold and the bottom is very hot. With the Calphalon Premier Space Saving Nonstick cookware set all that is a forgotten issue.
Stainless Steel Handles
One thing can be frustrating: not being able to have a comfortable grip of your cookware handle while using it because it's hot. I can imagine how hurt it was the last time I had my hand nearly burnt to try to grip the handle of my old frying pan. And, I can only thank the Calphalon Premier Cookware Set for coming to my rescue by offering these wonderful pans featuring a long handle that remains cool while cooking on the stovetop. Aside from this, the pots incorporate sturdy loop handles that make maneuvering it damn effortless.
Dishwasher Safe
You are probably eager to find out if this set is dishwasher safe, right? Yes, it's. But while it's dishwasher safe the company holds that hand-washing it will do better when it comes to maintaining the luster of the stainless steel. Think hand-washing isn't your thing? You need not panic as the user report has shown that it's very easy to clean it by hand.
Key Features
Space-saving
Pots and pans stack and nest in any order with cookware of the same diameter
Durable construction. It's made of nonstick hard-anodized aluminum
Dishwasher safe
Tempered glass covers (this saves space)
Oven safe up to 450°F
Other Features include:
Stainless steel handles that stay cool while cooking.
Metal utensil safe nonstick
Specs / Additional Details
Color: Black
Product Dimension: 28.74 x 17.52 x 15.16 inches
Item Weight: 37.8 pounds
Number of pieces: 15 pieces
Material type: Hard-Anodized Aluminum
Manufacturer: Calphalon
Pros
It's easy to clean.
The even distribution of distribution makes cooking even and perfect.
It's a great space saver as the pans stack and nest in any order with cookware of similar diameter.
It works well with many types of range ovens.
The pots, pans and glass tops are made of high-quality materials and so they're solid.
Cons
What Others Are Saying About This Product
As of the time of writing this review, the Amazon customer reviews show that users have given this cookware set a 4.7 out of 5 ratings. This is proof enough that it's a good product.
Final Verdict
After all said and done, it suffices to say that this product is worth the investment.  Apart from being a great space saver, the even heat distribution is of top-most benefit. This will not only allow heat distribution across your cooking it'll ensure perfect and comfortable cooking results.
When it comes to construction and durability, the hard-anodized aluminum ensures it's durable, plus its metal utensil safe.
The versatility of being able to use it on a wide range of cook-tops is also a great plus.
On being on the heavier side, this isn't a problem except if you're cooking far away from your kitchen.
Overall, if you're looking for the best cookware set to equip your new kitchen and that will save you a great deal of space, this cookware is your best pick!
Thanks for reading my review!!!
Recommended Read:
The 7 Best Ceramic Cookware Sets Review
The 7 Best Cookware Sets to Buy
Recent Posts
link to How Can You Buy Healthy Non Toxic Cookware?
If you are very passionate about cooking, then the best thing that you can do is to purchase high quality, healthy nontoxic cookware as fast as possible. Lots of cookware actually uses unwanted...
link to The 7 Best Ceramic Cookware Sets Review
Many individuals love the idea of working in the kitchen especially with the best quality cookware. Some of the best materials that you can be used in any kitchen today are born out of ceramics. One...